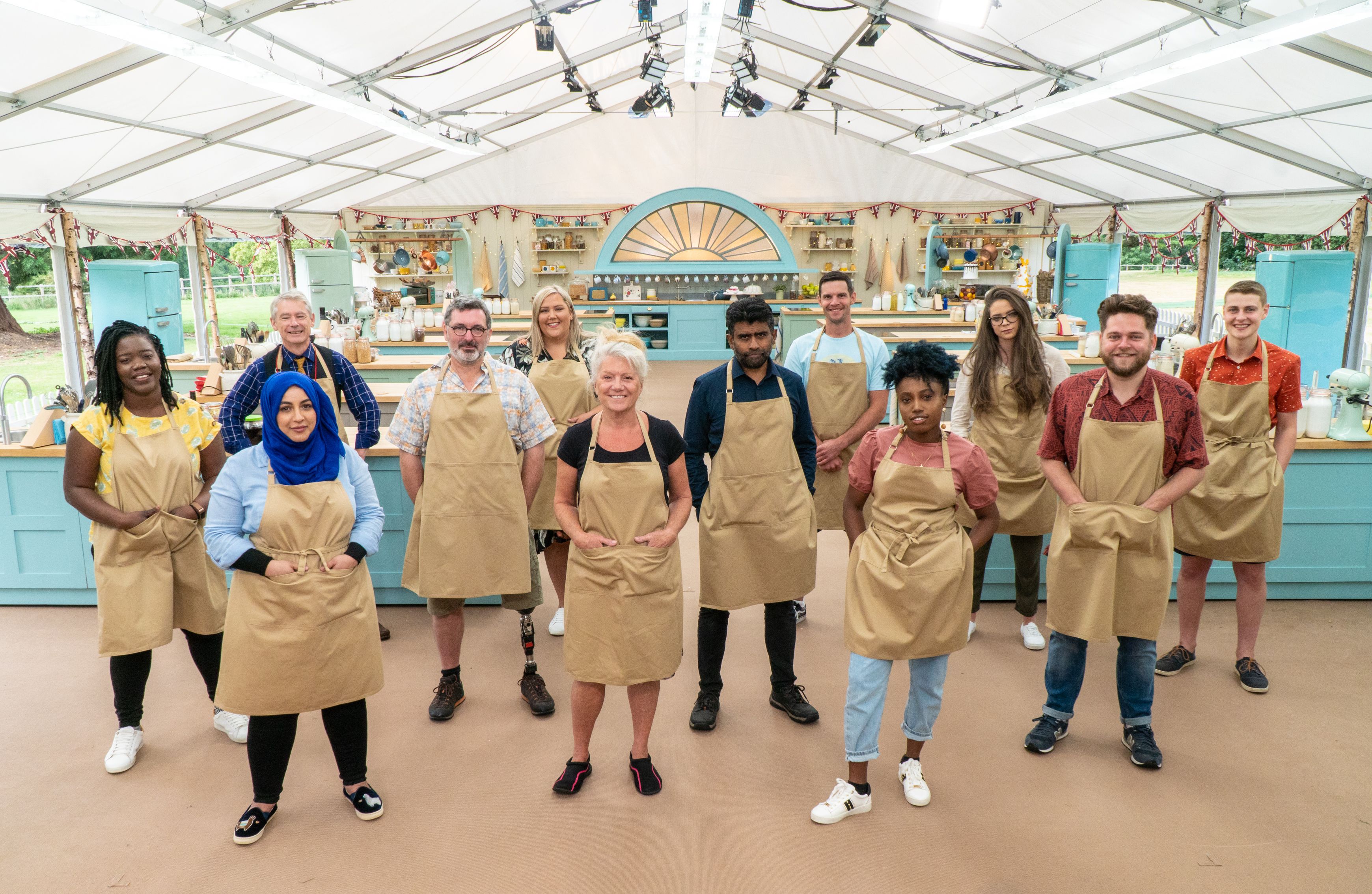 The widespread coronavirus pandemic has spread only unrest and uncertainty. Moreover, it has put a stop to all film and TV show productions. The only thing positive that we can have is this gentle reality show about amateur bakers from the English countryside competing for the crumbling supremacy. The Great British Baking Show renewed itself for the 11th season on Netflix this September with 12 new contestants. While the contestants and the judges were required to quarantine for two weeks before moving away from their loved ones and into a Great British Baking Show, we can expect a lot of emotional drama and baker's clashes.
Now, with the second week of the reality show coming to an end, the number of contestants vying for the winning prize has reduced to 10. Makbul and his soggy biscuits departed from the tent in week one while Loreia followed him in week two of The Great British Baking Show.
In order for filming to go ahead during the lockdown, Channel 4 created a biosphere bubble where the bakers, judges, presenters and crew spent seven weeks.  No one else was allowed to enter until and unless they were thoroughly cleaned. This site was created within Down Hall Hotel in Essex, abandoning the tent's traditional spot in the grounds of Welford Park, Berkshire. Matt Lucas, who is the new co-presenter of the show, replacing Sandi Toksvig described life on-set as "like a holiday camp".  He hosted a bingo night in the tents while Prue Leith ran a flower arranging class. Paul Hollywood even brought his own pizza oven. Although, the filming had to stop when someone on set developed coronavirus symptoms but the test results proved negative. Now let's take a look at all the bakers that we'll be rooting for each week.
Hermine
Age: 39
Job: Accountant
From: London
Instagram: @bakealongwithhermine
About: Hermine is a West African-born who came to London to pursue higher education. Her childhood included her baking pastries with her mum for large family gatherings. Hermine constructed her first solo savarin cake at the tender age of 8. Her loved ones enjoy the jars of marmalade that she so graciously gifts them. Her celeb hero for the Showstopper Challenge was Lupita Nyong'o dressed in a  jaw-droppingly realistic fondant gown.
What's her baking style like? Hermine has a love for high-end pâtissérie because of the French influence in Benin (where she was born and brought up). Millefeuille, éclairs and entremets are some of the things that she enjoys baking.
Strengths and weaknesses: "My strength is my understanding of how ingredients work together and how to get flavours right. My weakness is the ability to get a clean neat finish under time pressure."
Dave
Age: 30
Job: Armoured guard
From: Hampshire
Instagram: @dave_friday_bakes
About: After moving in with his girlfriend, Dave has baked for her at least once a week accompanied by his favourite punk rock. He is a bread fanatic and works on his passion for filling his kitchen with professional-grade kitchen gadgets. Dave also has an amateur interest in cars, and DIY projects. He chose to craft a figure of Blink-182's Tom DeLonge at the Great British Baking Show Showstopper Challenge. 
What's his baking style like? Dave's baking style is innovative and imaginative. His strengths lie in bread (pretzels, brioche rolls, and baguettes are particular favourites) and decoration. His favourite is the mirror glaze which gives his bakes a professional-looking finish.
Strengths and weaknesses: "My strengths are the ability to learn from mistakes, take criticism and use it to improve. I am incredibly determined and see the positive in every situation. Weaknesses would be feeling overwhelmed when mess builds up and struggling with some baking jargon…. And French words!"
Laura
Age: 31
Job: Digital manager
From: Kent
Instagram: @laura.adlington
About: Laura knows how to bake since she was 8, however she only got serious in this field recently. Laura is happily married to a  Police Community Support Officer. Her hobbies include watching, appreciating and performing in musical theatre.  She's also a self-professed organizational wiz with a gift for staying calm under pressure. This could serve her undoubtedly well at the Great British Baking Show. Her cake bust took the shape of a yellow jacket-clad Freddie Mercury.
What's her baking style? Laura is a lover of citrus and strong flavours. She has a penchant for putting a modern twist on old classics. She specialises in decoration, her mastered art being that of piped buttercream flowers.
Strengths and weaknesses: "I bake from the heart and love making things that pack a punch in terms of flavour. Finesse and refinement are not always my strong point."
Linda
Age: 61
Job: Retirement Living Team Leader
From: East Sussex
About: Linda started baking very early in her childhood when she used to visit her aunt's dairy farm where she was taught to turn milk into rich, creamy icing. She enjoys the countryside. Her love for outdoors taking her on frequent trips to the local beach for fishing mackerel and mullet. She knows how to find inspiration in the world around her, from the family farm where she first learned to bake with fresh milk to her local beach and backyard garden. Even today, she buys homegrown produce from another aunt's fruit farm and uses it in her baking.
She wowed the Great British Baking Show's judges with her technicoloured cake bust of Bob-Marley.
What's her baking style? Her strengths lie in the classics and in home-comfort cooking. She is probably the best at making sausage rolls.
Strengths and weaknesses: "I think my experience over the years would be my strength, but my weakness is definitely poor timing."
Lottie
Age: 31
Job: Pantomime producer
From: West Sussex
Instagram: @lottiegotcake
About: Lottie had a Lancastrian great-grandmother who was a fervent cake-baker and hence, she thinks that baking is in her blood. She has spent more time watching cookery shows than playing with her toys in her childhood. Lottie even used to make notes from cookery books. She likes to infuse her cakes with perfectionism and dark humour which could earn her bounty points at the Great British Baking Show. For her showstopper challenge, she turned a skull-shaped cake into the spitting image of British filmmaker and journalist Louis Theroux
What's her baking style? She calls herself a 'perpetually frustrated perfectionist'. While her baking has become more refined over time, she hopes it retains an element of her dark sense of humour.
Strengths and weaknesses: "Weaknesses – timing and decoration. I get lost in making sure I know what I am doing technically so I often run out of time or serve something that looks nothing like I had expected or wanted it to! Strengths – Turns out I'm a fast learner! I taught myself a lot of techniques ahead of the show and really enjoyed the process."
Marc
Age: 51
Job: Bronze resin sculptor
From: Cornwall
About: Baking has been like therapy to Marc since he lost his leg in 2016 as a result of a motorbike accident. He is a single parent who joined the Great British Baking Show to make his daughters proud. He is also an apiarist in his leisure time. Marc is a pro at pastry and sometimes includes his home-grown honey into his baked goods. Being a self-taught baker, he has a knack for measuring ingredients by eye. For his initial Showstopper challenge, he built travel author Bill Bryson out of cake 
What's his baking style? From palmiers and chausson aux pommes to opera cakes and millefeuille, his bakes are a true finesse.
Strengths and weaknesses: "My strengths are definitely bread and any dough based recipes – my weakness is cakes."
Mark
Age: 32
Job: Project manager
From: Liverpool
About: Mark's love for baking emerged from his local pie shop. He has been experimenting with cakes since he was a student. From perfecting a lemon drizzle to building multi-tier wedding cakes, Mark's science drive baking journey has progressed a lot over the years. As he is a public health research programs, he used Charles Darwin as his icon for the challenge. 
What's his baking style? Irish heritage is one of the things that influence his baking style and others include the flavours of Africa and Asia, where he travels regularly for work.
Strengths and weaknesses: "I think I am quite a versatile baker and always up for a challenge. My biggest weakness is baking to a time limit – at home I spend hours (and sometimes days!) baking something as a way of de-stressing, so I wasn't sure how I would deal with that in the tent!"
Peter
Age: 20
Job: Student
From: Edinburgh
Instagram: @peter_bakes
About: Peter is the youngest contestant of the show. His inspiration for baking was The Great British Baking Show itself. He claims to have watched every episode of the show. Apart from that, Mark is also a national level badminton player and is currently a student majoring in accounting in finance. Peter's first-ever showstopper was dedicated to Sir Chris Hoy, an Olympic cyclist from Scotland.
What's his baking style? He honours his homeland in his cooking by using Scottish ingredients which include berries, whisky, oats and honey – whenever he can.
Strengths and weaknesses: "My strengths are time management and planning. My weaknesses are artistic decoration and bread baking."
Rowan
Age: 55
Job: Music teacher
From: Worcestershire
Instagram: @rowansbigbakes
About: Rowan is an entirely self-taught baker. He is also a fitness enthusiast who loves to swim a mile every morning. The Georgian era inspired his sculpture of Marie Antoinette at the Great British Baking Show.
What's his baking style? Rowan likes to call his baking style ostentatious but hopefully tasteful. French pâtissérie is the absolute love of his life, mostly the subtlety of flavour, and the style and sophistication. He is drawn to fine, complex, layered cakes. He likes to reinvent 18th-century recipes given his love for the Georgian era.
Strengths and weaknesses: "My strengths are ambition in ideas and design. My weakness is over-ambition and no interest in timings!"
Sura
Age: 31
Job: Pharmacy dispenser
From: London
Instagram: @surasbakes
About: The Middle Eastern and Asian influences in Sura's heritage has led her to experiment with ingredients and flavours from all over the world. She lives with her husband and her grandmother. She enjoys adding to her culinary creations finicky floral flavours. She is extremely passionate about architecture and travel. Her celebrity hero for the showstopper challenge at the Great British Baking Show was  Sir David Attenborough. 
What's her baking style? Sura isn't the one to stick to one recipe. ever one to stick to a recipe. She likes to provide a personality to her cakes. Fragrant and floral flavours such as cardamom rose and orange blossom are her favourites.
Strengths and weaknesses: "My strengths lie in flavour and balancing of flavours and also making small and dainty bakes- but my weakness is large multi-tiered cakes."
Eliminated Contestants
Loriea
Age: 27
Job: Diagnostic radiographer
From: Durham
About: Jamaican-born Loreia uses baking as a means to celebrate her Caribbean roots. She transferred to the UK when she was 15. Her husband is crazy about her Jamaican patties. In her leisure, she likes to improvise her kitchen. She likes practising the craft of macramé. She paid tribute to Jamaican poet Miss Lou through her showstopper bust.
What's her baking style? Loreia is passionate about creating her own recipe as she never follows a single one exactly. She also loves to experiment with coconut, chillies and cinnamon in her food.
Strengths and weaknesses: "My strength is my cool and calm nature and my ability to work well under pressure. Outside of these I think I have great strengths with blending untraditional flavours. However, these are not always to everyone's taste. On the other hand, my weakness lies in my inability to follow a recipe without having to put my own twist in, I struggle to think in a simplistic way."
Makbul
Age: 51
Job: Accountant
From: Greater Manchester
About: He first started cooking at home so that he could support his mum. Since then he has honed these skills by drawing inspirations from famous chefs. Makbul produces his own honey, which he uses in his cakes as often as possible.
What is his baking style? Mak's strengths lie in pastry (he says he's better at puff than shortcrust). He enjoys making the traditional Asian nankhatai biscuits for celebrations such as Eid.
Strengths and weaknesses: "As a baker one of my biggest strengths is that I'm not daunted by much. I will have a go. My biggest weakness is the mess I create!"