Overwatch 2 release date. At the Blizzcon 2019, the announcement of a sequel to Blizzard's most popular first person shooter and 2016 hit Overwatch has caught fans by surprise. Nevertheless, the news is true and what's more, is that the company will be introducing a series of new features to make the experience of its players more enjoyable in the game.
Apart from the introduction of a fully new co-op story mode with PVE missions, the gaming studio will also be adding multiplayer maps and different modes in which you can play the game. You will be able to upgrade your favourite heroes by unlocking new capabilities for them. Overwatch 2 will also be featuring a mixture of new heroes and the old ones though its release date has not been announced yet. There's even a new map type that will launch with the game.
Over the years of playing Overwatch, the developers have kept making small alterations in the appearance of heroes here and there. Along with that new characters have also popped up in various lore entries.
Therefore, new heroes and shared content between Overwatch and Overwatch 2 are to be expected. The one thing we can be sure about is that the two games will eventually coexist as one big PvP experience.
Read on to get a roundup of Overwatch 2 as you gear up for the sequel of the game.
What is the Overwatch 2 Release Date?
The arrival of a sequel to Overwatch was announced at BlizzCon 2019. However, the release date of Overwatch 2 is not announced yet. Blizzard said that the game is in early development.
With regard to the release date of Overwatch 2, games director Jeff Kaplan said "I don't know. I have no idea. Like, just let us make it great, that's what we care about more than anything. We don't have a date in mind."
On the other hand, one leak from Sony's PlayStation Brazil Twitter account which was deleted earlier said that PS4 release date in 2020 would happen. Since Blizzard is yet to confirm this statement, we can't be so sure.
There was another leak regarding the game by Dexerto which said that we may have to wait until Blizzcon 2021 for the release date and more details on Overwatch 2. All we can do now is wait for the developers to reveal more information.
Where will Overwatch 2 be released?
Apart from PC (Battle.net), Nintendo Switch, Xbox One, and PlayStation 4; the game will all but definitely be available for PlayStation 5 and Xbox Series X as well.
Cinematic announcement
Jeff Kaplan revealed Overwatch 2 at the BlizzCon 2019 event with an eight-minute cinematic trailer titled "Zero Hour". And believe me, the trailer almost feels like a dramatic declaration of the dawn of a new Overwatch age. The video shows something completely different from the disjointed hero cinematics.
Moreover, it suggests that Overwatch 2 will have a story that will bring together multiple characters and it is going to be mind-blowing!
You too can have a look at the cinematic announcement below:
Overwatch 2 trailer
Not just the cinematic announcement, Blizzard also dropped the three minute game-play trailer for Overwatch 2. It showcases the new look of the game and everything that the sequel is going to be about from the story, co-op mode to the new hero Sojourn.
PvE missions are divided between 'Story' and 'Hero' missions
This game will mainly focus on PvE. Talking about it, Blizzard has said that, "players will team up as different sets of heroes and fight to defend the world from the omnic forces of Null Sector, uncover the motives behind the robotic armies' attacks, and come face-to-face with rising new threats around the globe."
Story missions
Overwatch 2 will dive into the Overwatch lore to complete story missions complete with intros and outros. The Overwatch characters will reunite to save the world. In the first game, Winston sent out a message, to call back the former agents to stop a new threat to the world: Null Sector. This event also inspired several short films exploring how different members responded to Winston's call.
Players in this mode will have the option to pick from a predetermined set of characters that make sense for the story. However, according to Blizzard, it wouldn't make sense for villainous characters like Junkrat or Reaper to help Winston, but players can have the option of choosing different characters based on the specific narrative. The developers have also introduced item pickups that can slightly modify a hero's playstyle. The three known ones until now are an HP generator, a corrosive grenade, and a barrier shield similar to Winston's. These are accessible by anyone but they don't carry over between missions.
Hero mission
Hero missions are separate from the main storyline. Blizzard will frequently change these missions as Kaplan says, "We want them to feel fresh and new every time you go into them". One of the advantages of playing this mode is that you'll be able to be free to choose any of the characters to play against A.I. on any of the maps.
Moreover, you can level up your heroes and customize their abilities. Also, these ability modifiers are exclusively in PvE mode which will be "deeply replayable" according to Kaplan.
What is going to be new in Overwatch 2: James Kaplan interview
Loot Boxes might not be there
In his talk with PCGamesN, Jeff Kaplan discussed potential monetization models for Overwatch 2, "Well, we have made a lot of changes to loot boxes and how they work over the years, so we're definitely open to change. Overwatch 2, in terms of business model, we're exploring different options that move us away from loot boxes, but I think that will be more for Overwatch 2 than the core game. I would never rule anything out".
Battle pass might be introduced
Overwatch 2 director said that battle passes could be a great idea. Assuming that Blizzard doesn't come up with a different model altogether, battle passes are a good guess.
Co-op missions
Co-operative missions see players uniting together to stand against an overwhelming outbreak of threats around the globe.
Narrative focus
President of Blizzard Entertainment, J, Allen Brack said that, "With Overwatch 2, we're building the cooperative, narrative-driven game experience that players have been asking for since the original—and that we've wanted to make for a long time". The developers are putting more focus on PvP mode and which will include new maps, new modes and new characters.
New Maps
There's a lot more for us to know with Jeff Kaplan hinting that every mode in Overwatch 2 will have a different map that "widen the scope of the world". The website has revealed a few maps coming to the sequel along with a few more that are yet to be revealed. The upcoming PvE maps will be "2x larger than regular Overwatch maps" according to Kaplan. This will allow the telling of more stories.
The first four pictures shown above are Monte Carlo, Toronto, Gothenburg, and Rio De Janeiro respectively. No information has been provided about the last one. Toronto is a push map type. Monte Carlo looks like a payload in the recent reveal.
Overwatch 2 PvP is compatible with the original game
Since Overwatch 1 is receiving all of the PvP updates coming in Overwatch 2, the latter's players can party up with Overwatch 1 players like they always have. Although, we don't know yet if Overwatch will receive the same graphical updates. And if not, will players see things differently?
Introduction of new heroes
Echo, first introduced in the 2018 McCree/Ashe-centric short film Reunion. She was confirmed to be playable by Joshua Noh via the Overwatch 2 cinematic trailer "Zero Hour."
The second character anticipated for Overwatch 2 after BlizzCon 2019 is Sojourn. She was first introduced in 2016 via a small appearance in the short film Recall. Named after African-American abolitionist and women's rights activist Sojourner Truth, she will be the first Black woman playable character and the first Canadian hero in the game. Sojourn was a captain in Overwatch and has cybernetic enhancements on her body.
Overwatch 2 will have hero progression
This feature is "still under development" according to Blizzard, Hero Progression will essentially allow players to level up their favorite characters and empower them with so-called "talents". Earlier players were only rewarded players with cosmetic upgrades. On the other hand, this would allow players to customize their characters in ways that lean into playstyles. Every character will be imbued with special talents and this will be implemented in all PvE modes. However, Blizzard confirmed that Hero Progression will not be a factor in PVP competition.
Overwatch 2's new Push mode is a tug-of-war match
A new map type called Push will arrive in Overwatch 2. This will mostly be in Toronto. This will have two teams fight over control of a robot that pushes two barriers back and forth across the map. The team that pushes the farthest into other's territory before the end of the match or the one that pushes the robot down enemy territory first; wins. It has a striking resemblance to escort game mode except that it's a bidirectional tug-of-war.
This introduction will be a major feature of Overwatch 2. This mode will be playable in quickplay, competitive, and also in the Overwatch League. Assistant game director Aaron Keller described the mode as "really flanky," because players can access various points along the robot's path through different shortcuts and connections.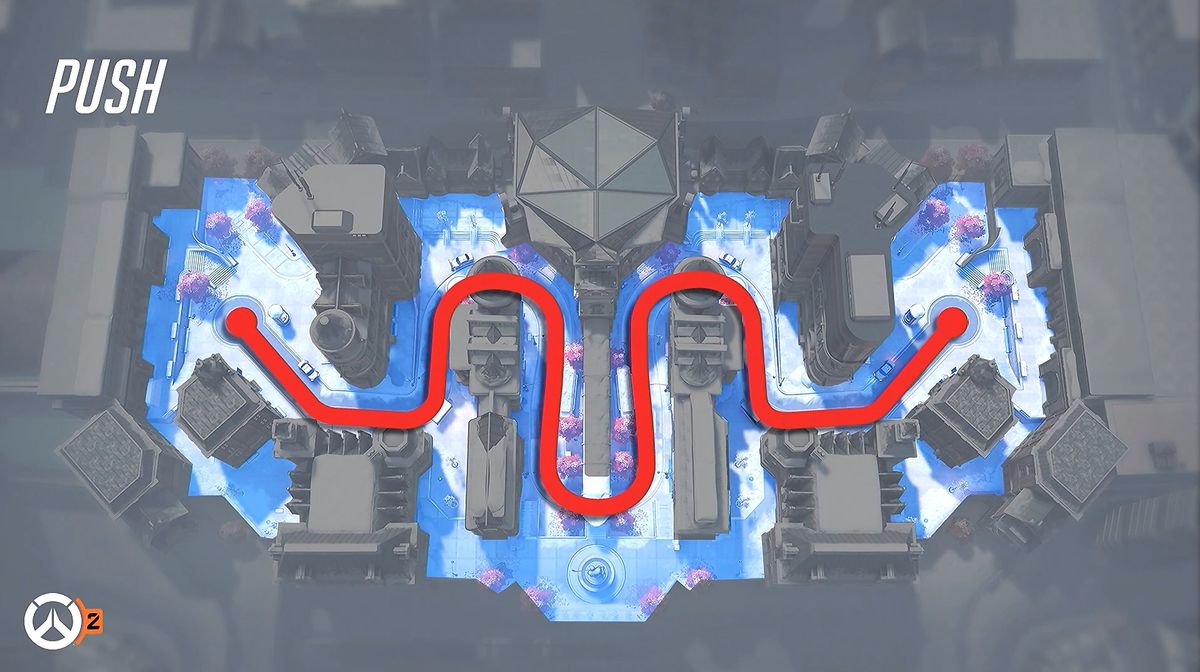 The above overview of the Toronto map makes this quite clear. According to Keller, "heroes that wouldn't normally see as much utility on Control or Payload maps (Tracer, Reaper, etc) excel in Push thanks to flanking routes."
Overwatch 2 will have shared progression
Talking about what "redefining" a sequel means, Blizzard confirmed at BlizzCon 2019 that Veteran players of Overwatch will be able to keep their progression (stats, loot, skins, etc.) going into Overwatch 2. He also said that cosmetics earned in the original Overwatch will be ported over to Overwatch 2 – a move that will help expedite the transition to the new game. Kaplan said onstage, "It will be a shared, multiplayer environment where no one gets left behind."
Along with that, Blizzard also confirmed that Overwatch and Overwatch 2 will share content between games. This means that you can play as the same characters and the same maps in either Overwatch and Overwatch 2.
"The last thing we would ever do is split what an amazing community you guys are," Kaplan said. Therefore players in the original game will have access to all new maps and heroes as well.
Overwatch 2 has a new writer
Michael Chu wrote the original Overwatch game and holds 20 years of credit with the company. Chu's narrative contribution to Blizzard is immense. He assisted in writing World of Warcraft, Diablo 3, Overwatch, and the in-development Overwatch 2.
He announced on March 11, 2020, that he was leaving the company although his reasons for it are unknown yet. Although we don't know anything about how much he was able to contribute to Overwatch 2, the story-based work is likely to have been completed by then. According to Blizzard in an interview with PCGamer,
"We're incredibly grateful to Michael for his contributions, and his presence at Blizzard will be missed. We're not anticipating an impact to our plans for Overwatch 2. The game's development is a massive collaborative effort involving talented people across multiple teams, all with a shared commitment to the values of Overwatch and the vision for Overwatch 2. We're working hard to create an epic, story-driven experience for players, and we can't wait to share more."
It has not been announced yet who will take Chu's place at the company and as Overwatch 2's head writer. But we are guessing that the Nebula Award-winning author who joined the Overwatch team's writing staff in August 2018' Alyssa Wong will be the one.